SOJOURNERS MALIBU BAY
Sojourners Malibu Bay: Do you like beautiful headed alpacas?  I realize that beauty is in the eye of the beholder, but MALIBU catches the eye of nearly every visitor to this farm, particularly other alpaca breeders. 
Even though he is wet and dirty, and needs a haircut here, you can get a feel for his head type here in this photo.  He is 3 years old here.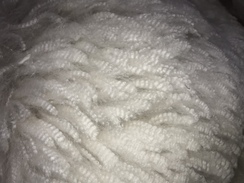 Sojourners Malibu Bay has a very fine, bright fleece that is well organized into small microbundles. He sports a high frequency, medium to high amplitude crimp style. Malibu has very high curvature and ranks in the top 1% in that category in the EPD database.  With a very soft hand and a high degree of density, he has earned a spot in our breeding program for 2020.
Having settled 4 females in 2020, the waiting begins.  The first cria expected, is being carried by Xanadu Un Peu De Soleil.  AOA #35248361.

SOJOURNERS MALIBU BAY'S PEDIGREE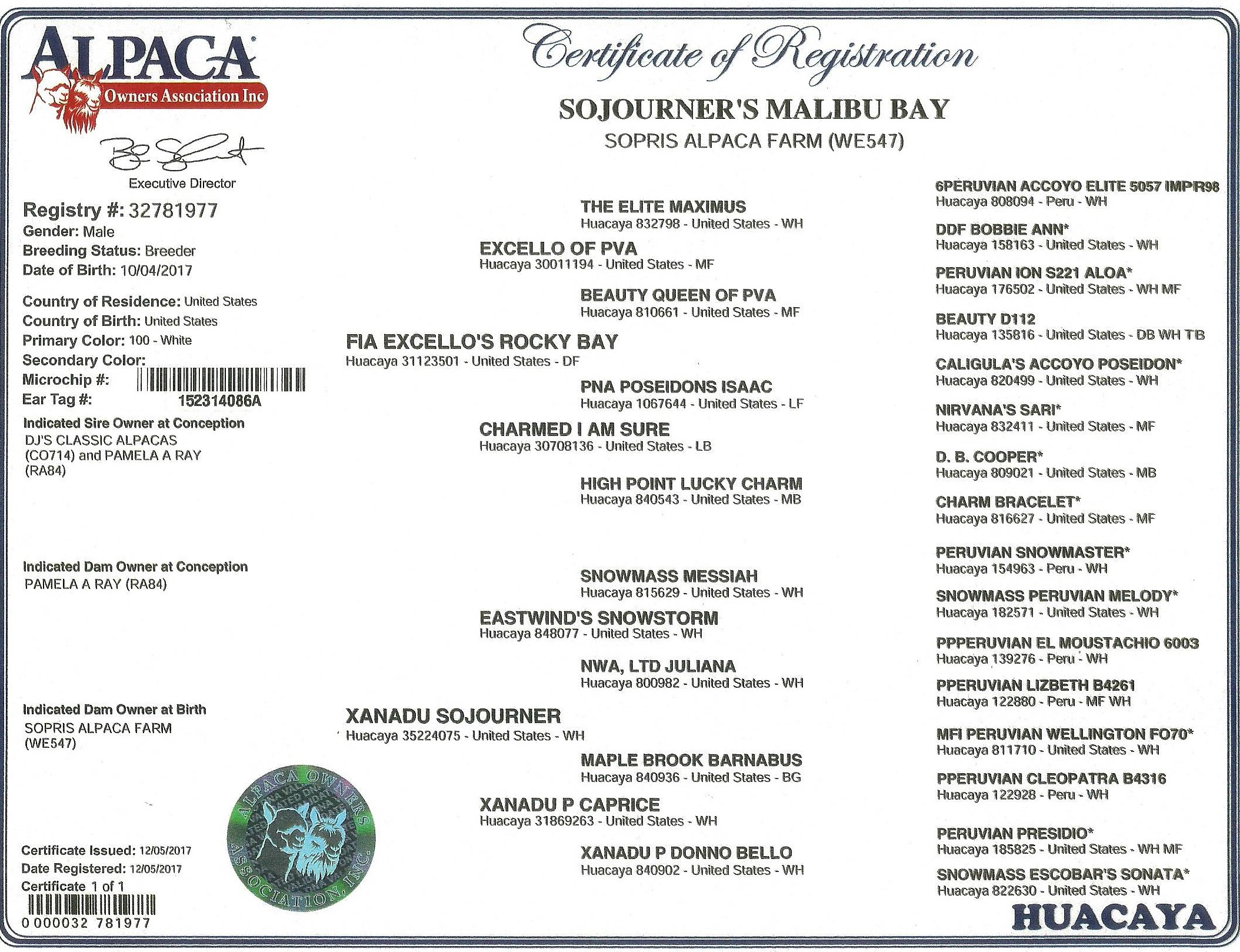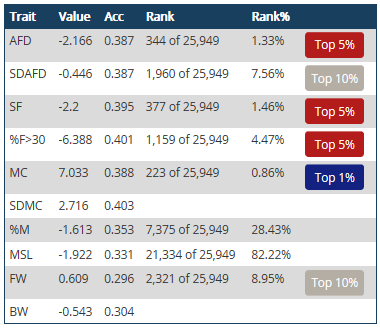 Beginning with the paternal side, Excello of PVA is one of the finest , most uniform alpacas in AOA's EPD database, currently ranking as male #11 in average fiber diameter, of 25949 males, animal #4 in SD and SF.  This is where Malibu gets some of his fineness.  Malibu's sire is Rocky Bay, who adds density, while remaining strong in the other traits. 
On the maternal side, Xanadu Sojourner, who we purchased from Xanadu. She is very fine and uniform herself, with a beautiful head that she puts on her babies.  We feel very fortunate to have acquired Sojo.  She is a daughter of Eastwind's Snowstorm, sire of the incomparable Xanadu P Aristide. who was a mega champion in the showring.. 
If you study this pedigree, you will find it to be absolutely power packed.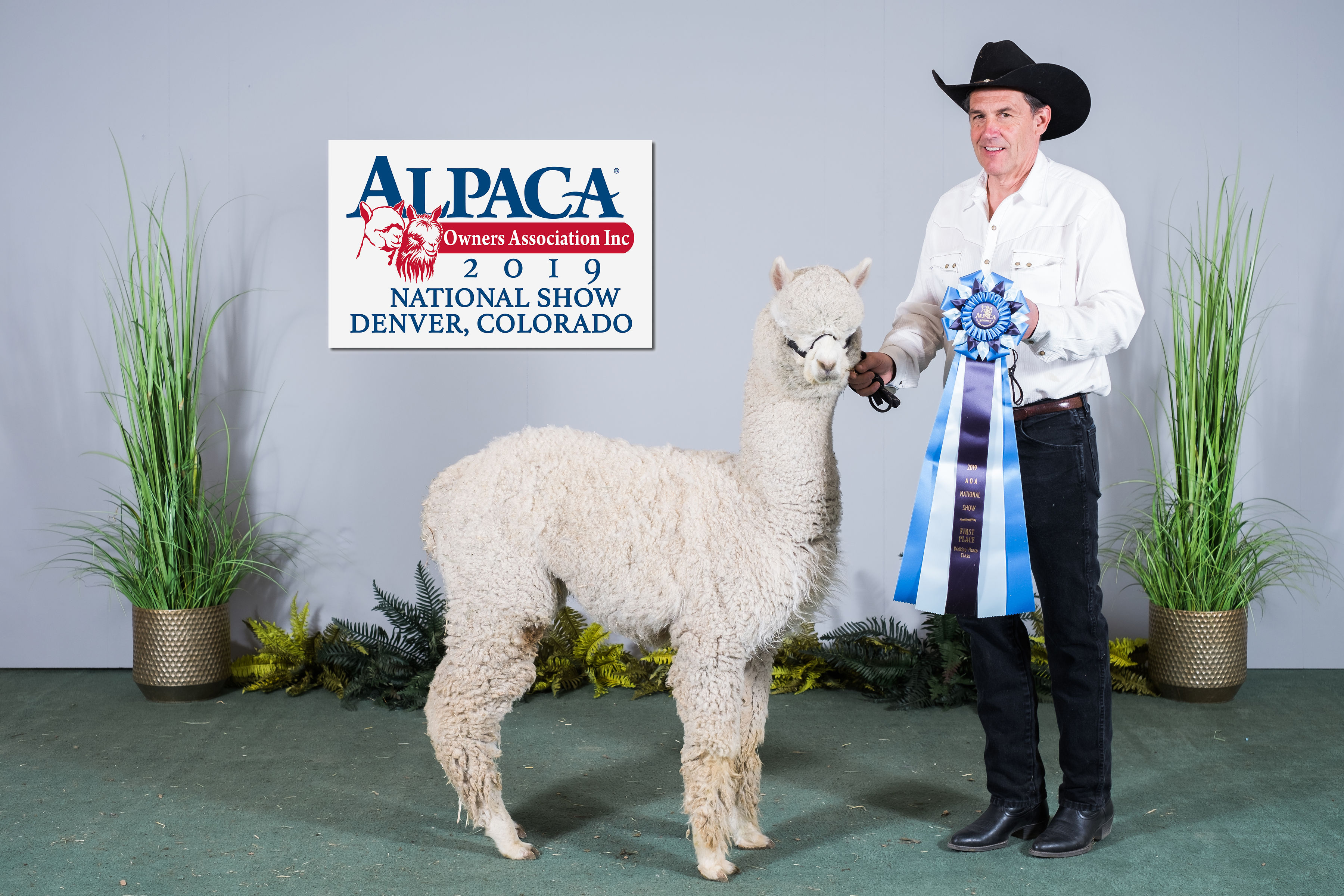 Malibu is no slouch himself, winning a blue at the National Show in Walking Fleece.
He is also one of the most good natured animals on our ranch.  He's big, yet gentle, curious and funny.  He is also very trusting and sweet.
There are a couple of things I would change on him, but his strengths were simply too hard to overlook, when I made my breeding decisions in 2020.  I pulled 4 females from Snowmass Matrix Belvedere and covered them with Sojourners Malibu Bay. His first crias are expected to show up in May 2021.
For more detailed information on Sojourners Malibu Bay, including fleece stats, show record, etc., click here: https://www.openherd.com/members/editAlpaca.aspx?id=i7YPlwCd8ZT4/T0GvA+u/w==

Cory Wesson (970) 618-6435
Kim Wesson (970) 274-0853
Copyright © 2023 Sopris Alpaca Farm. All Rights Reserved.