Stay in our bed and breakfast
Check out our 3  bed and breakfasts listed on Airbnb & VRBO under the headings  "A Night with the Alpacas", "Alpaca My Bags" and "Alpaca Paradise", in Silt, Colorado.

Bed & Breakfast - Inside
We decided on a vaulted ceiling to open up the space more, and used rustic old timbers for the support beams

Bed and Breakfast - Kitchen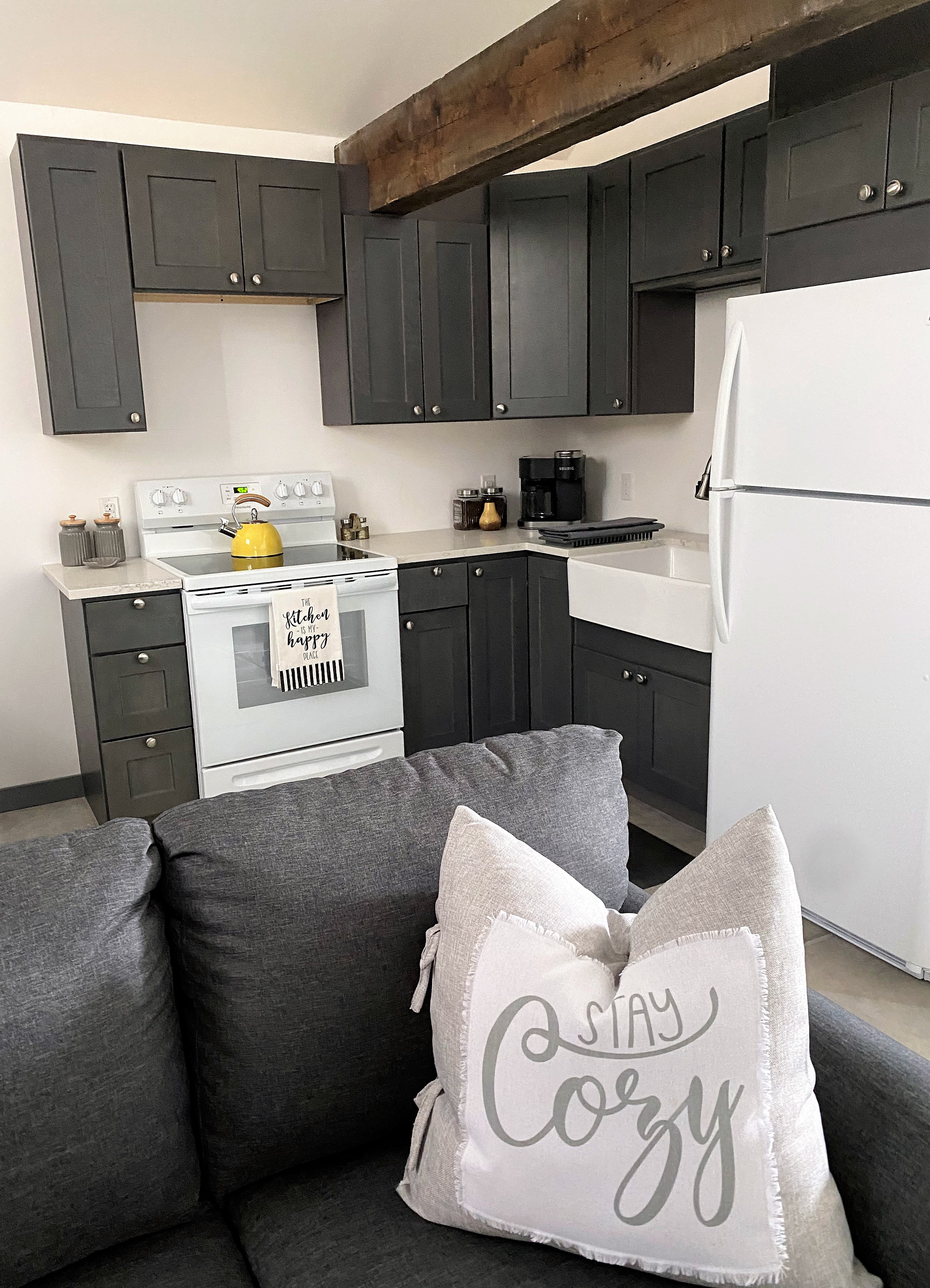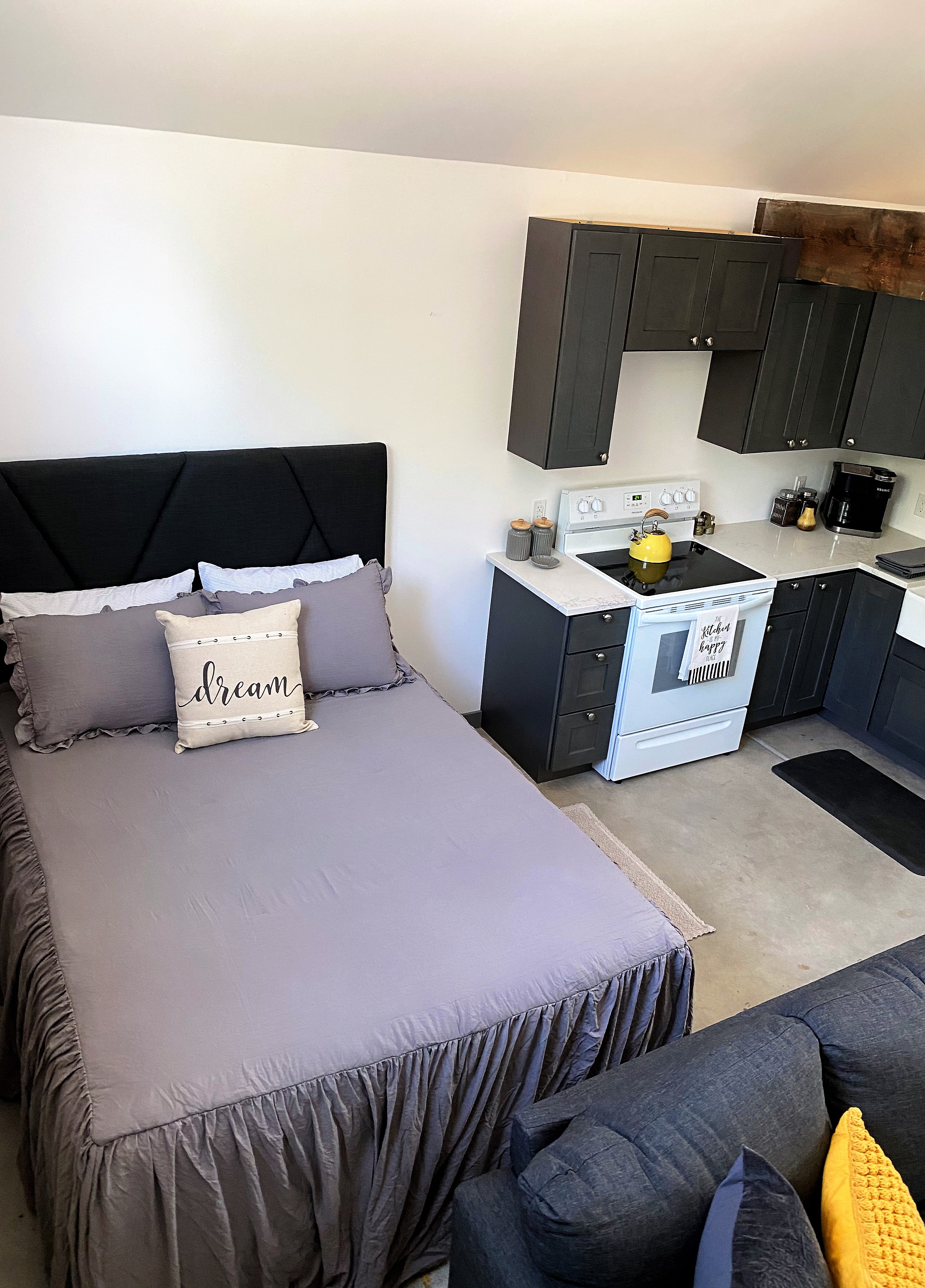 The bed & breakfast has a queen sized bed, as well as the pullout sofa bed, sleeping up to 4.

Bed and Breakfast - Bathroom (3/4 bath)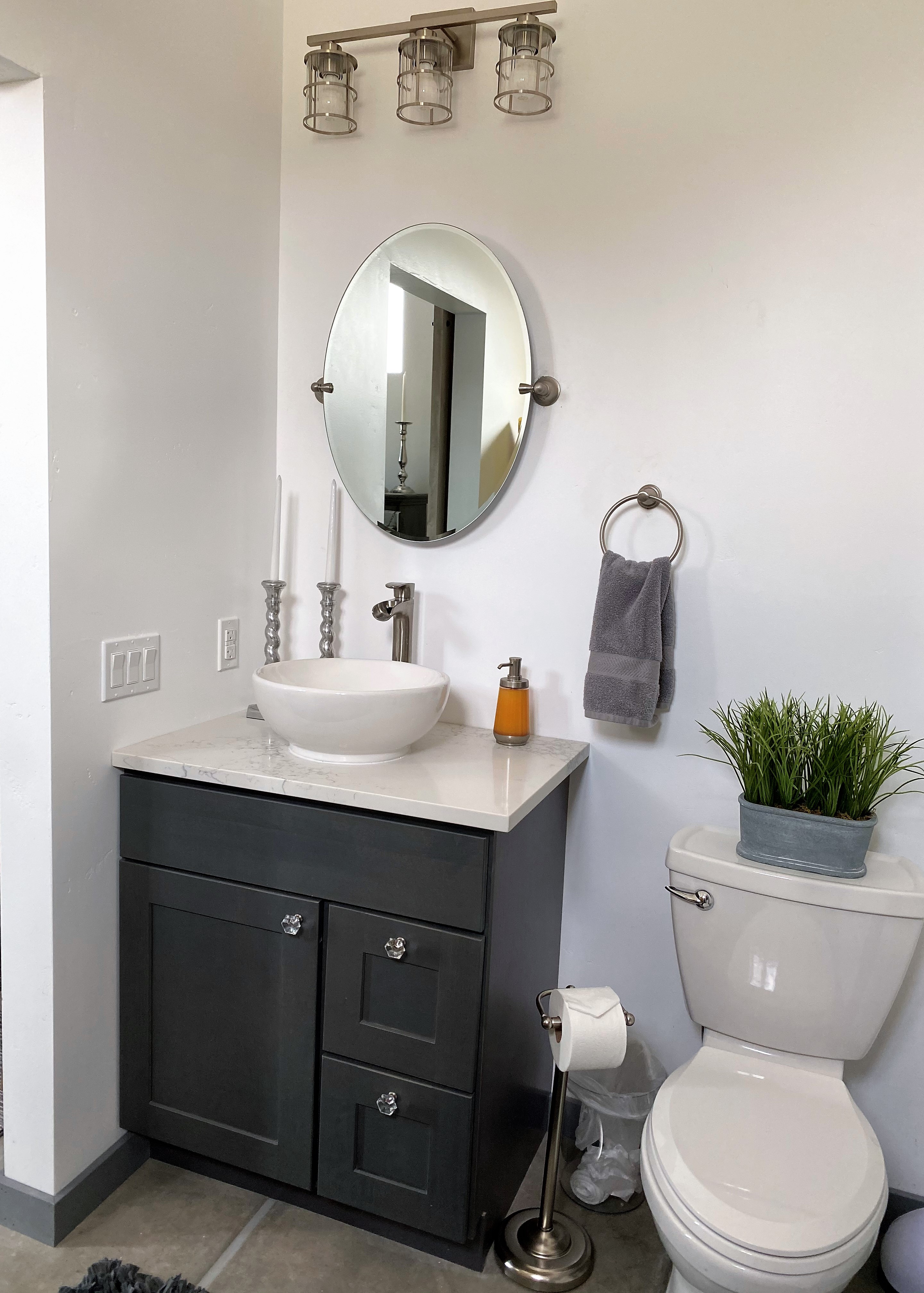 Bed and Breakfast - Outside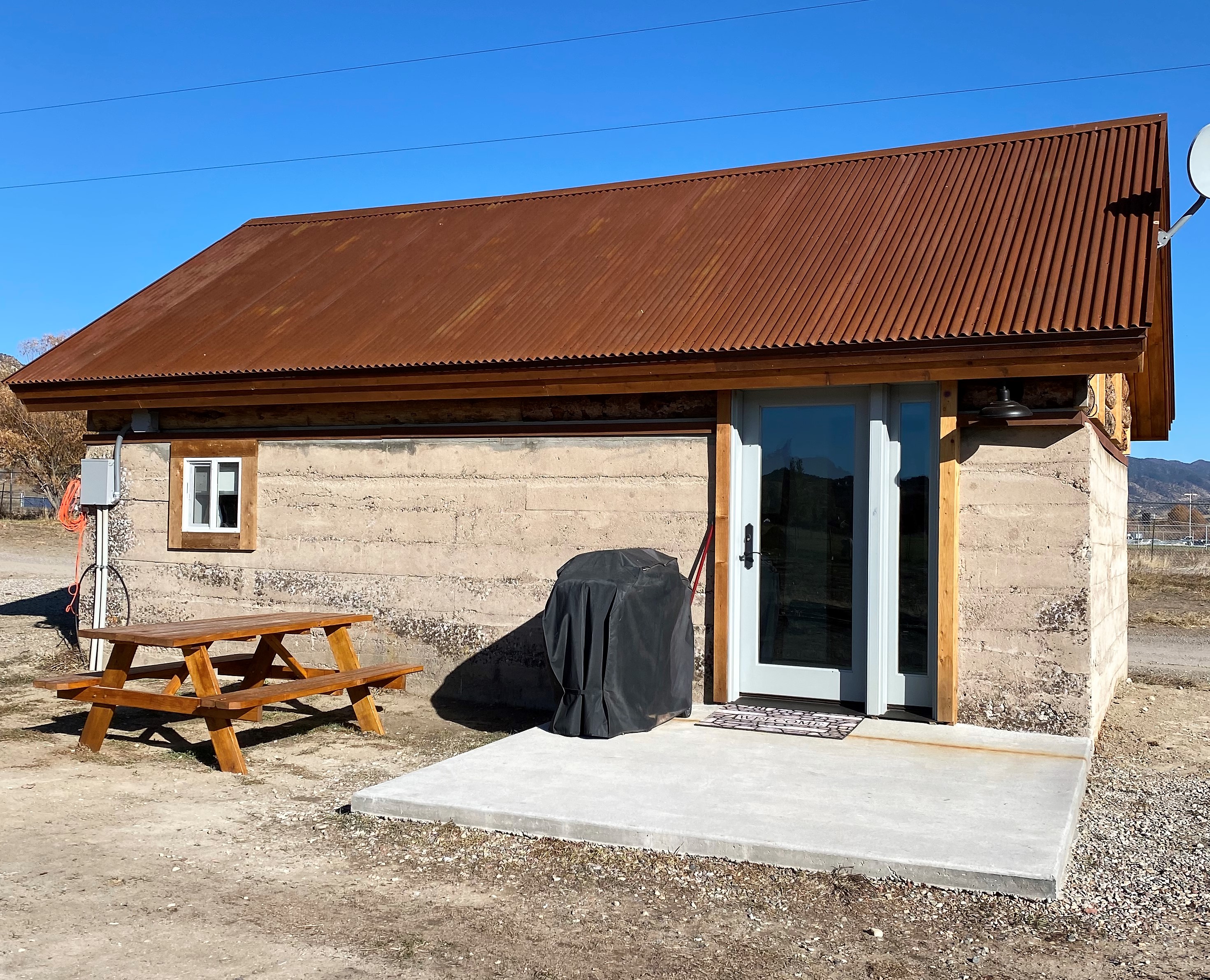 To create our bed and breakfast, we repurposed this old concrete building.  We gutted it, raised the walls up a couple of feet, poured a new concrete floor, filled the old west side entryway with concrete and cut a new doorway in the west side, facing the alpacas.
Then we let Kim take over, as she has an eye for making things both functional and cute.  This quaint little unit was a perfect use for this  building.

This unit is basically a large tiny home.  It is away from our main cabin, and sort of tucked in between alpaca pens.  You can enjoy our farm, mainly the animals, typically beautiful Colorado weather.
Here is what people are saying:
"Just outstanding. The place was beautiful, warm and cozy. The alpacas are just an amazing experience. 100% Recommend."  Paula Nov. 2020, Madrid, Spain
"My boyfriend and I had a phenomenal time here!! The AirBnB is so cozy and cute. It was in perfect condition and had lots of personal touches.  The alpacas were adorable!! An unforgettable experience." Erin, Nov. 2020, Concord, CA
"It doesn't get much better than waking up in a beautiful surrounding, in the middle of dozens of adorable alpacas. The house itself is very charming, well kept, and with thoughtful touches like coffee creamer and snack goodies. Everything about staying here was easy. We're keeping this place in mind for our next visit." Rachel, Nov. 2020, Denver, CO
"This place is a little slice of heaven!!! The cabin is beautifully decorated and you can truly walk out your door and pet and feed the adorable alpacas! The bed was super comfy and snacks and all that we needed." Courtney, Nov. 2020, Craig, CO

If you would like to have a unique alpaca experience, follow this procedure to book it:

Go to AirBnB.com, you will get the following landing page: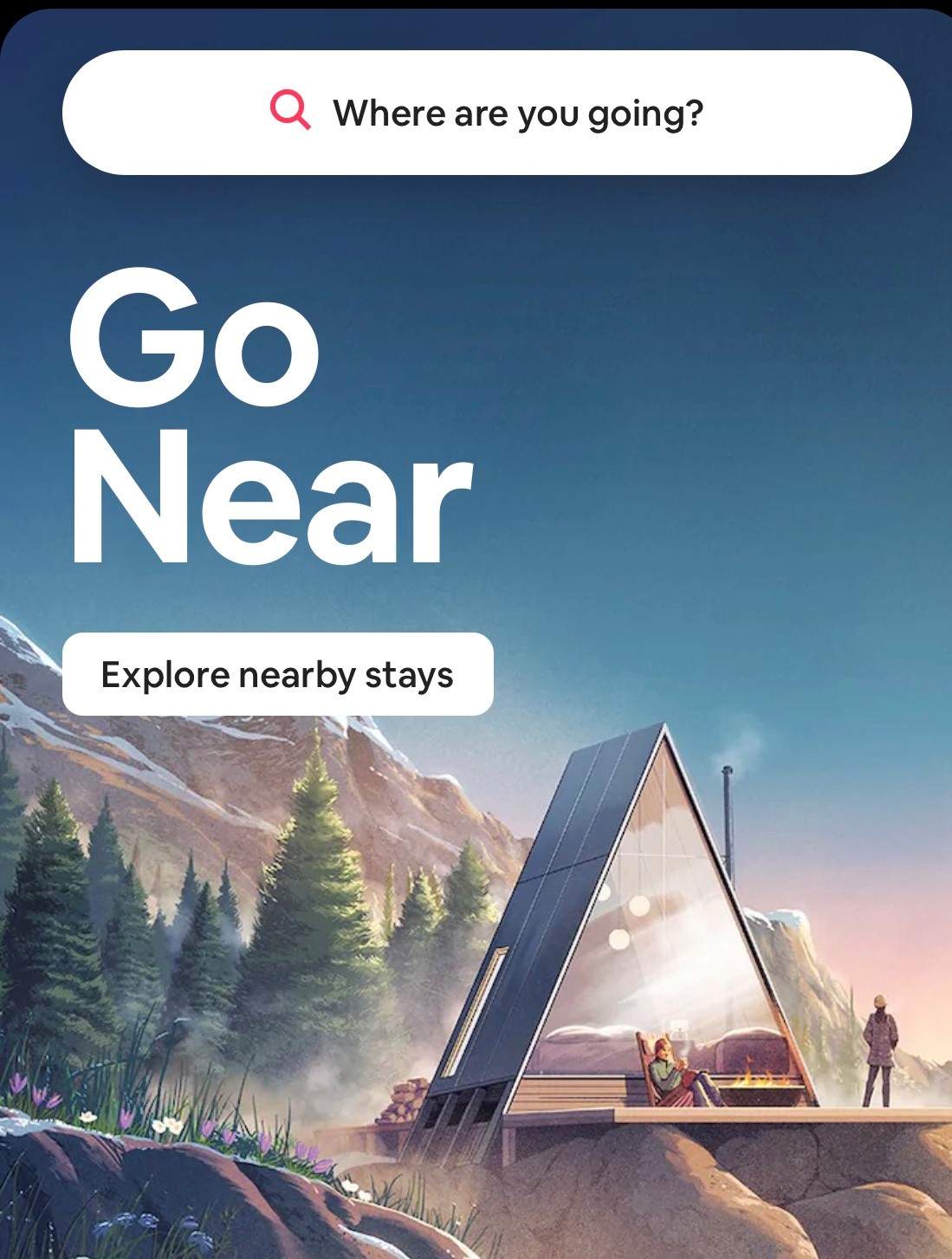 Enter Silt, CO
Then select Find a place to stay... Entire homes, rooms & more

This will take you to a calendar to enter the dates of your desired stay, followed by the number of Adults (Ages 13 or above), Children (ages 2-12) and Infants (under 2.
Click on the Search button.

This is what you're looking for!  If it does not show up in the list, then it is booked for at least a portion of your desired stay, or you have more guests that our unit sleeps (4).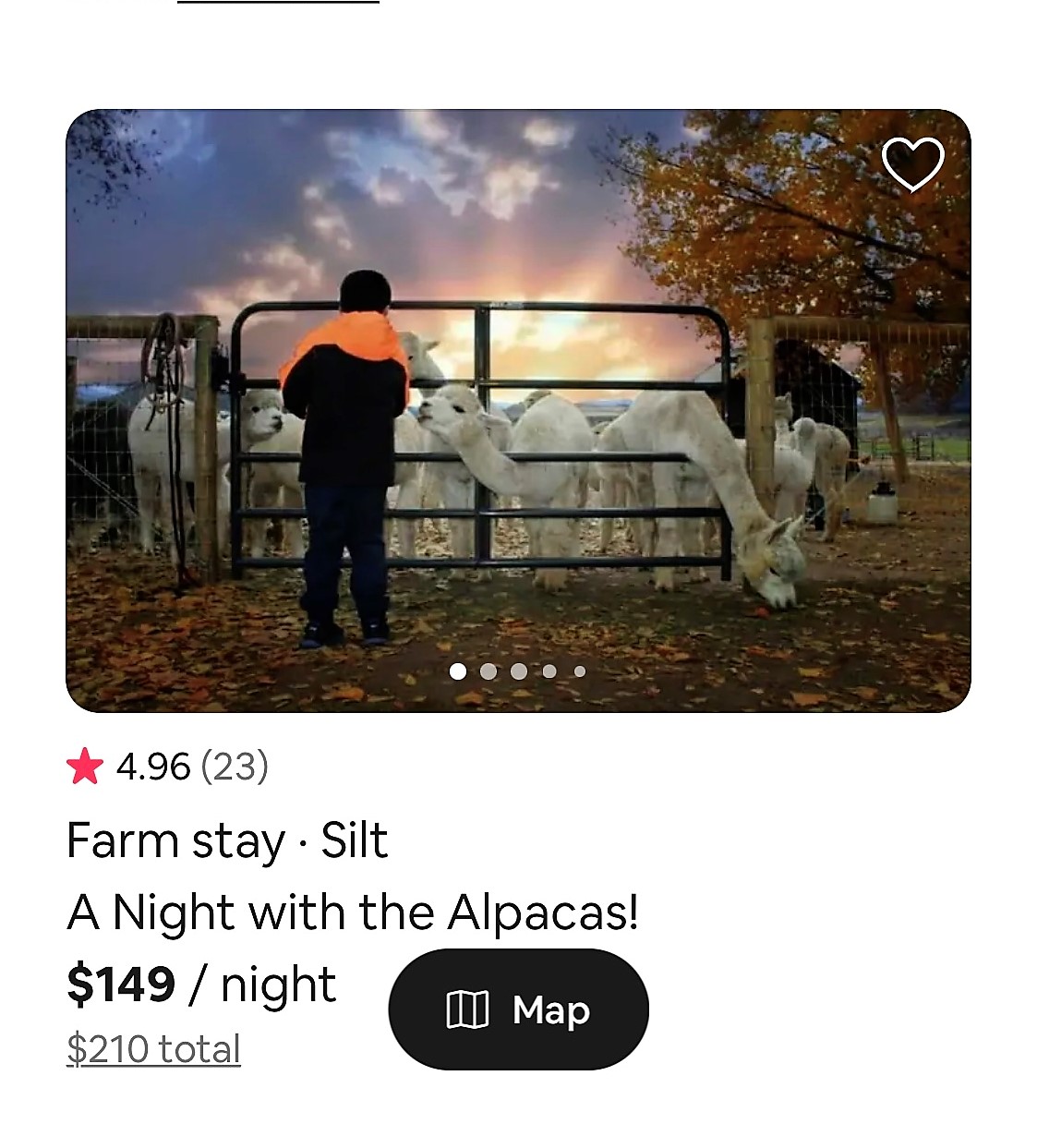 Can't wait to see you on the farm!

Cory Wesson (970) 618-6435
Kim Wesson (970) 274-0853
Copyright © 2023 Sopris Alpaca Farm. All Rights Reserved.