Snowmass Matrix Belvedere
We proudly co-own Snowmass Matrix Belvedere with our good friends Scott and Debbie Miller of Crescent Moon Ranch.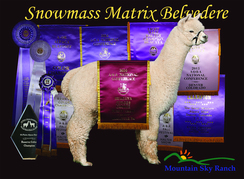 Belvedere's Pedigree
As you can see from his pedigree, it is power packed.  Starting with an ingenius cross of 6PERUVIAN ACCOYO ELITE and Snowmass Maree Love, resulting in Snowmass Quechua, who is still considered by many to be the best herdsires ever produced by Snowmass.  Sadly, Quechua left this world way to early, but not before leaving some absolutely incredible sons.  One of the most infamous of these sons is Snowmass Matrix. Matrix gained a lot of this notoriety when he sold at auction for $675,000.  He currently has over 400 offspring on the ground, including many, many champions and multiple champions.  One of these multi champions is this boy right here!

Belvedere had an extremely  successful show career, by anyone's standards.  He earned 2 Judge's Choice awards, and 17 Color Champion and Reserve Champion banners, and blue ribbons galore.  His success came both in the halter ring as well as fleece shows.

Belvedere's Offspring
Mountain Sky's Gimme My Banner is one of only 32 registered offspring of Belvedere.  We feel that he has been significantly under used.  Look for many more offspring beginning in 2021, as we eagerly await his first crop for our partnership.  Several outside females are currently pregnant to him. 

If you've read this far, you may believe that Belvedere can advance your program with a few select breedings.  Give some thought to each of your females, then give us a call.  We offer discounts for multiple, females.  He will be in Colorado beginning in March 2021.
For more information on Snowmass Matrix Belvedere: http://www.openherd.com/AlpacaPage.aspx?ActiveOverride=1&alpaca=151238

Cory Wesson (970) 618-6435
Kim Wesson (970) 274-0853
Copyright © 2020 Sopris Alpaca Farm. All Rights Reserved.